The Surf Poncho: The Essential for Surfers
Beyond the majestic waves, the shining sun and the ocean as far as the eye can see, surfing evokes an art of living. However, at the heart of this enchanting nautical experience lies an often overlooked reality. Imagine yourself, after an energetic surfing session , emerging from the water, exhausted but fulfilled. You now find yourself faced with a seemingly mundane challenge, but one that can quickly ruin the magic of this moment: changing on the beach. Beach towels and bathrobes are far from the ideal option in these conditions. It is precisely at this moment that a hero of the rider's kit is revealed : the surf poncho.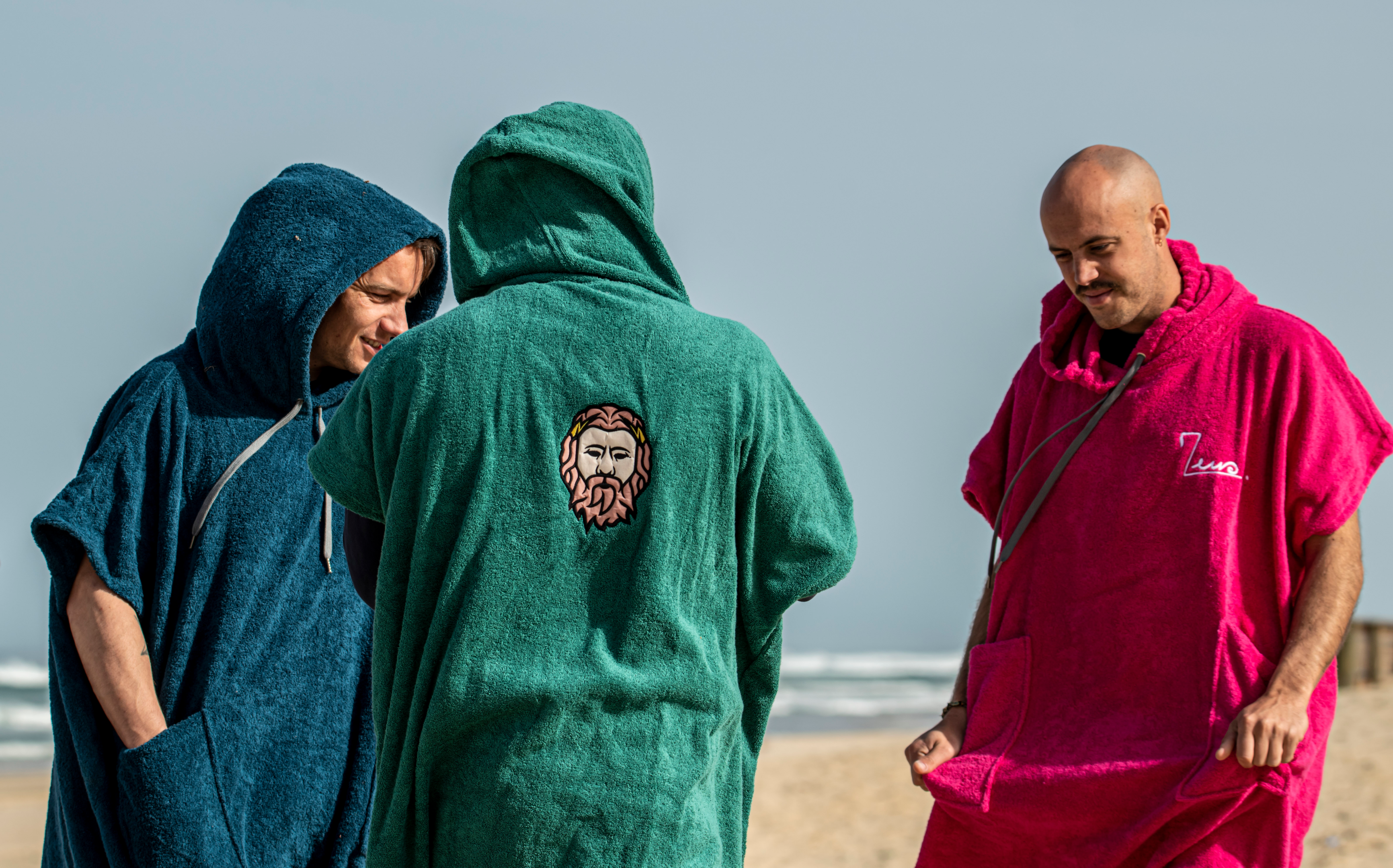 In this article, we'll dive deep into the fun and incredibly practical world of this essential surf accessory. Forget classic towels, because we're going to explain why GOTS certified cotton is the material of choice for surf ponchos . We will also reveal why polyester ponchos , despite their sometimes more attractive price, can leave something to be desired, especially when it comes to odors . More importantly, we'll show you why, beyond their utilitarian aspect, ponchos have become an essential part of surf culture.
So, if you are a wave lover, a passionate surfer or even an intrepid novice looking for expert advice, this journey through the fascinating world of surf ponchos is for you. Get ready to discover why these practical garments go far beyond their initial function, becoming a true companion on your adventure in the world of surfing.
Hold on tight, because we're going to explore what makes the surf poncho so special and why it's become an inseparable part of contemporary surf culture . 🌊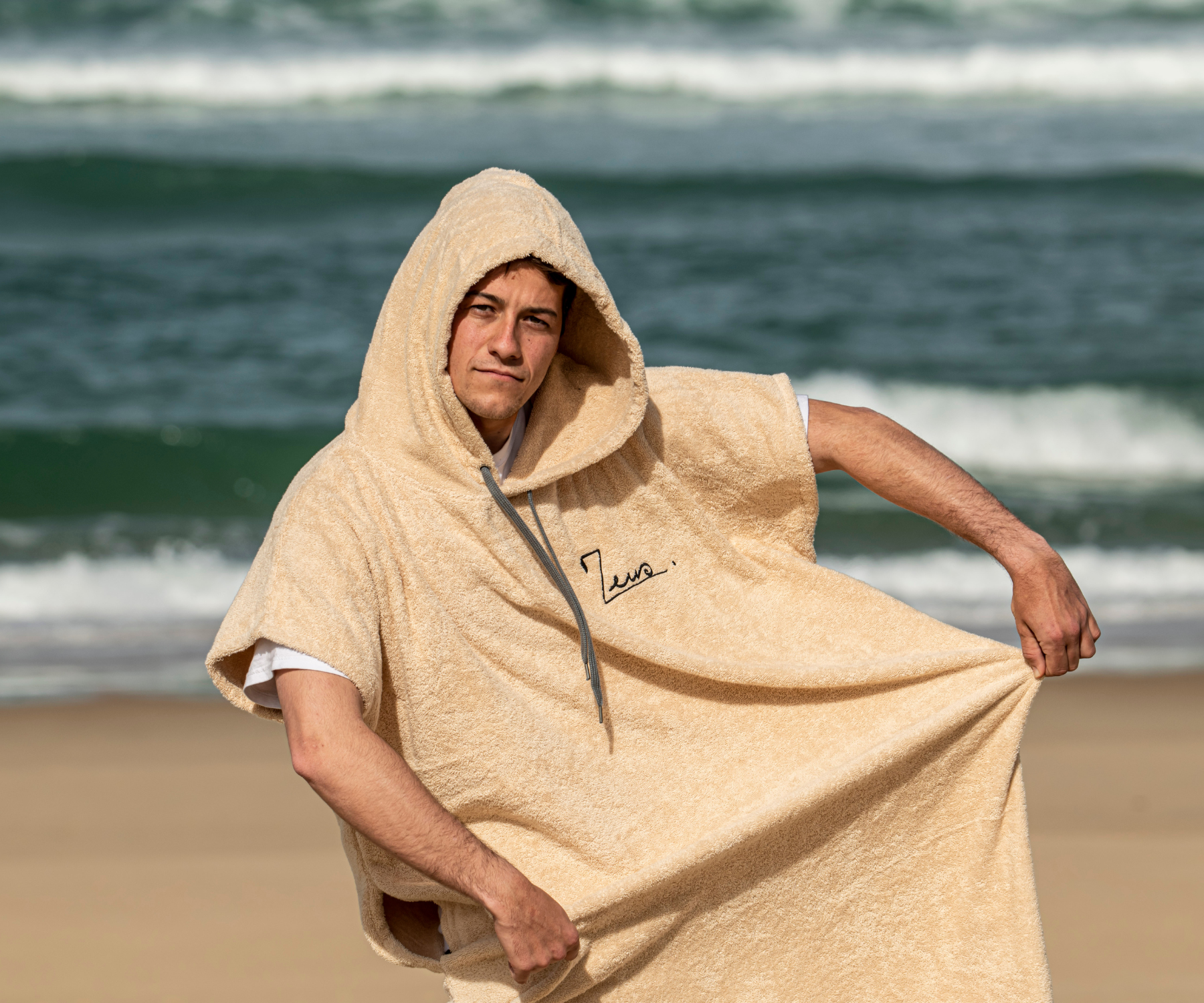 There are a multitude of ponchos , you will find plenty of models , for women , men and also for children . There are different styles of surf ponchos and several materials such as bamboo, cotton, or polyester. The poncho is a surf accessory which must above all be both practical and comfortable, aesthetic and durable .
To find our collection of Zeus ponchos on our online store, click here
Zeus is a French surf brand. We offer poncho models for women, men and children, there is something for everyone. Our ponchos are suitable for a wide range of sports whatever your water sport.
The Poncho: Your Best Friend for Stress-Free Surfing
Imagine this: you've spent hours riding waves, feeling the energy of the ocean. You emerge from the water, exhausted, but delighted. Now it's time to change. But where ? Changing on the beach can be a bit...well, tricky. That's where a poncho comes into play.
It gives you instant shelter to change in complete privacy, keeping you warm and away from prying eyes. No more contorting yourself in your car or hiding behind a too-small towel. With a poncho you can change in the blink of an eye, wherever you are.
If you're too lazy to change, you can also put it on over your wetsuit, get in your car and head home to change!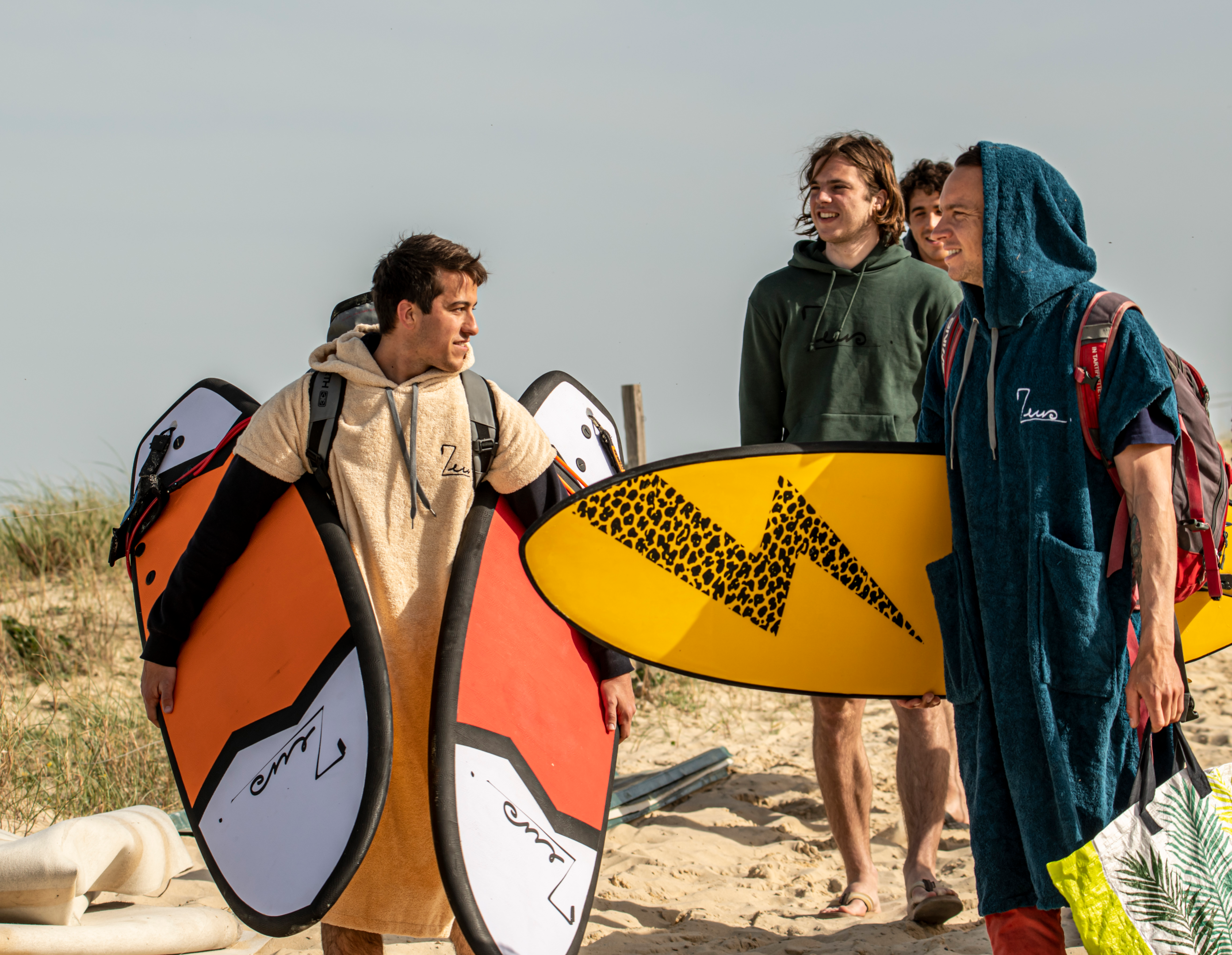 At Zeus simplicity
At Zeus, we like to push the limits of surfing, but not only that! By listening to feedback, our customers made it our mission to make the best poncho. So forget your beach towel.
We have opted for simplicity with a selection of ponchos that will suit everyone. Our surf ponchos are available in a wide range of colors.
We have chosen to make only one size, no hassle finding the ideal poncho. It is also simpler for stock management and helps limit unsold items. Also forget hours of research to find the perfect model. Our ponchos are also suitable for bodyboarding , kitesurfing, windsurfing, longeshore.
With their terry cloth, you benefit from all the advantages: comfort, lightness and durability and you are dry after all your surf sessions.
One of the key points for a good poncho is durability, so have you heard of GOTS cotton ?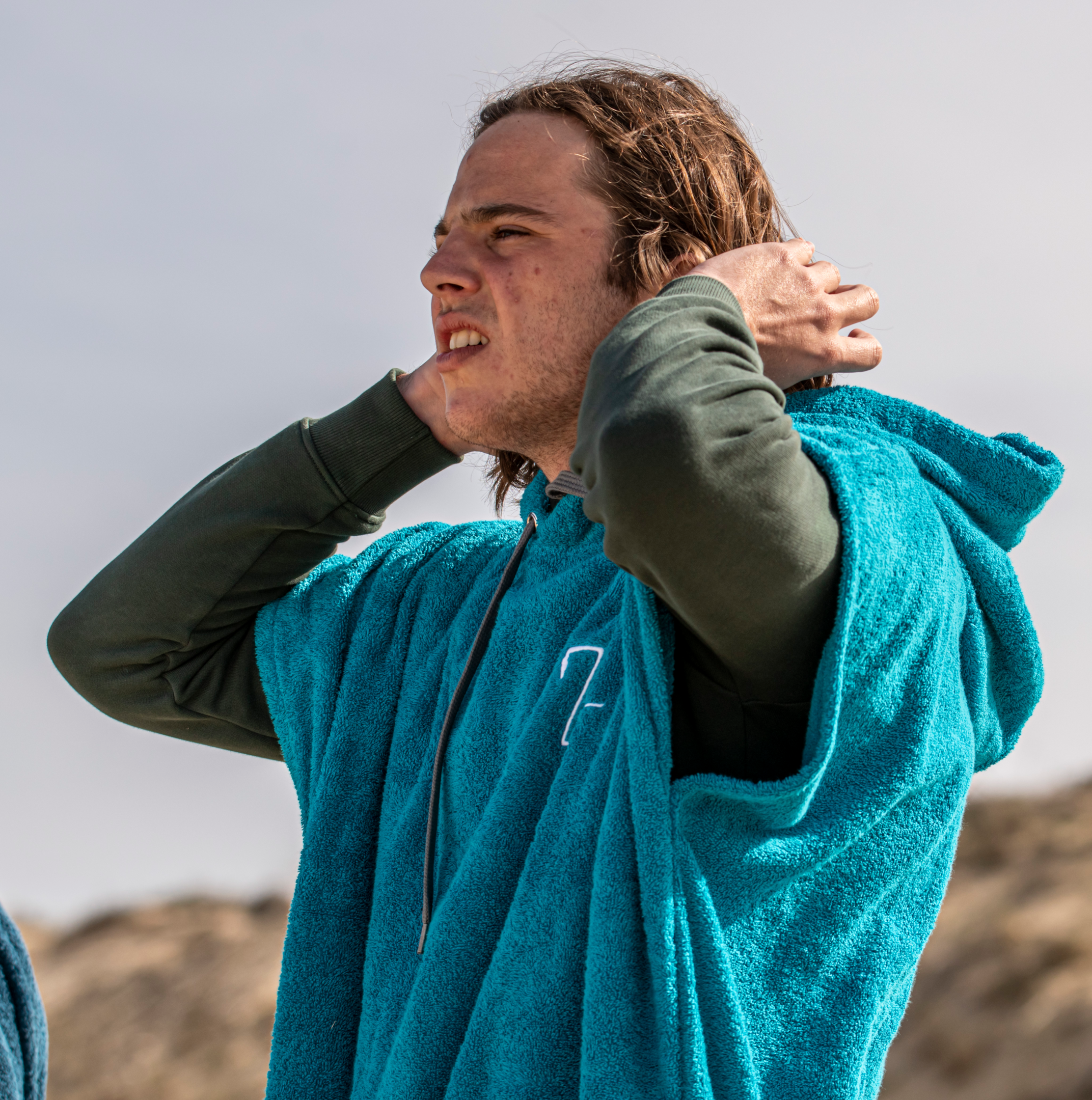 Why GOTS Certified Cotton is the Star of the Show
When it comes to choosing the right poncho for surfing, material choice is key, and GOTS (Global Organic Textile Standard) certified cotton stands out remarkably. This label is much more than just a guarantee of quality; it embodies the commitment to sustainability, comfort and respect for the environment.
GOTS certified cotton is grown organically, without the use of harmful pesticides or chemical fertilizers. This growing method maintains soil health, reduces groundwater contamination and limits farmers' exposure to potentially harmful chemicals.
In addition, this label requires respect for fair working conditions for farmers and workers throughout the supply chain. So, when you opt for a GOTS cotton poncho, you are choosing a product that takes into account not only your comfort but also crucial social and environmental issues.
On a practical level, cotton is also an exceptional material. It has a natural ability to absorb moisture , keeping you warm and dry, whether after a surf session or while relaxing at the beach. GOTS certified cotton offers incomparable softness and lasting comfort , while respecting the strictest environmental and social standards. In short, it represents the responsible choice par excellence for surf enthusiasts concerned about the planet and their well-being. 🌿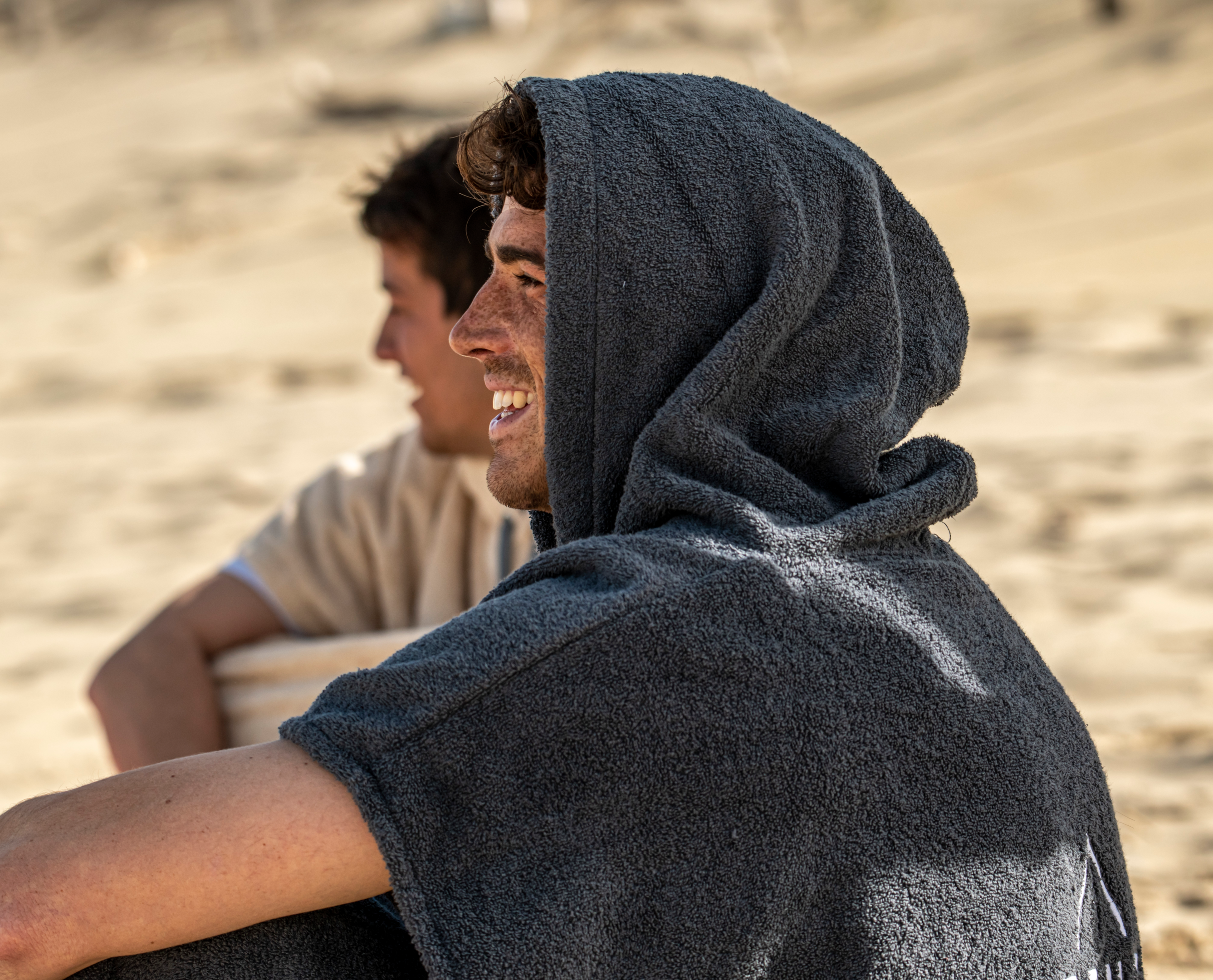 The Scourge of Polyester and Synthetic Ponchos
Please note, we have to address a delicate subject: polyester ponchos and other synthetic materials. Although they are sometimes cheaper, they can have major disadvantages. One of them is smell .
Polyester ponchos tend to trap salt, sweat and seawater odors, which can lead to... how can I say... unpleasant situations. On the other hand, ponchos made from GOTS certified cotton are less likely to retain odors, allowing you to stay fresh after your surf session.
Also remember that your polyester poncho will release plastic microfibers when washed, not great when you know that these plastic microfibers end up in the oceans.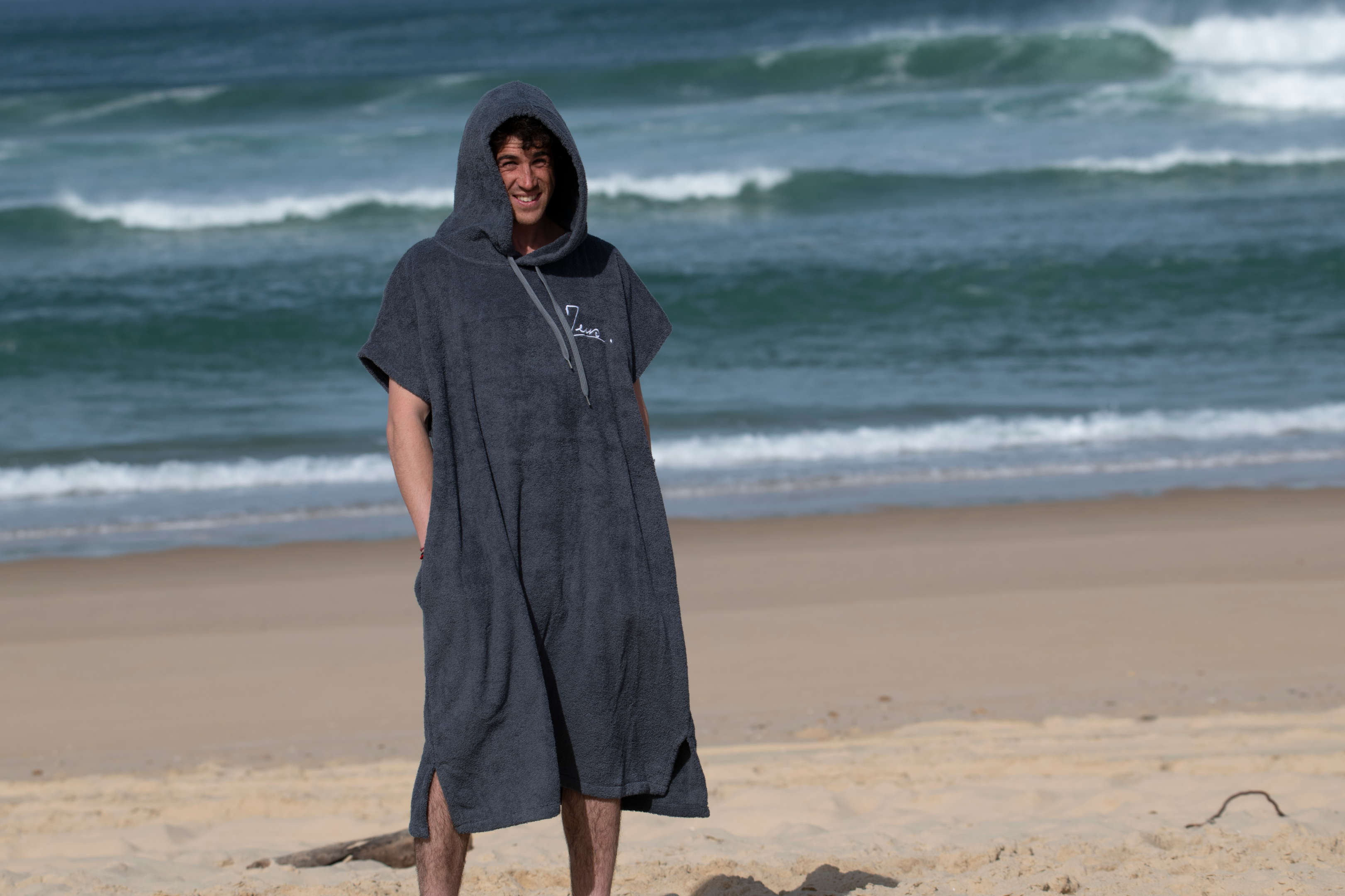 Maintenance and Washing and Drying of your Poncho
To ensure the longevity of your cotton surf poncho, it is essential to maintain it properly. Here are some simple tips:
Wash it in cold water with similar colors.

Use a mild detergent and avoid harsh chemicals.

Air dry it to preserve its softness and absorption properties.
Conclusion
In conclusion, the surf poncho is much more than just a piece of clothing. It embodies the very essence of surf culture, merging lifestyle, practicality and respect for the environment. When you choose a GOTS certified cotton poncho, you are opting for a complete and authentic surfing experience.
Remember, surfing is not just a sport, it's a way of life. The poncho, with its enveloping comfort and its eco-responsible side, is a symbol of this philosophy. It embodies the connection with the ocean, respect for nature, and sharing unforgettable moments with other enthusiasts.
Whether you're a seasoned surfer or an intrepid beginner, the poncho has you covered. It's part of the adventure, the ritual of changing on the beach after an epic session, and the fulfillment in a unique marine environment.
So, put on your poncho, feel the softness of GOTS certified cotton envelop your skin, and set off to discover the waves. Not only will you stay dry and warm, but you'll also be part of a tradition that celebrates the beauty of the ocean and the spirit of camaraderie among surfers around the world.
Enjoy every moment on the waves and the authenticity that choosing an environmentally friendly poncho brings. 🌊
If you are looking for a gift for a surfer, then a poncho will be an ideal gift.
Surf Poncho FAQ
Q1: Is the surf poncho unisex?
Absolutely, most surf ponchos are designed to suit both men and women
Q2: Can I use a surf poncho for other outdoor activities?
Yes, surf ponchos are versatile and suitable for various outdoor activities, such as camping, swimming. They provide warmth and comfort in all conditions.
Q3: How can I extend the life of my surf poncho?
By following the washing and care instructions provided by the manufacturer, you can extend the life of your cotton surf poncho and ensure its quality.
Q4: Are cotton ponchos eco-friendly?
Yes, cotton ponchos made in Europe or Türkiye are often produced responsibly, minimizing the impact on the environment. Look for brands that prioritize sustainable practices.
Q5 What price for a quality Poncho?
A good poncho will cost you between €50 and €80; you will sometimes find them at ridiculous prices, so be wary of the quality.
Q6 What are the most famous brands of surf ponchos?
Among the surf brands, we will remember Oxbow, Rip Curl, Quicksilver, Billabong, Mystic, Roxy and Volcom. If you are looking for a French surf brand, there is also the All In brand. And if you want a poncho made in France, you can look at the Green Session ponchos which are made from an upcycled towel and bathrobe
Image with text
Add an image to a long paragraph of text to highlight a product of your choice, a collection, or a blog post. Add details about availability, style, or feature a customer review.
See his contributions on Medium