Les 10 Commandements du Surf selon Zeus ⚡️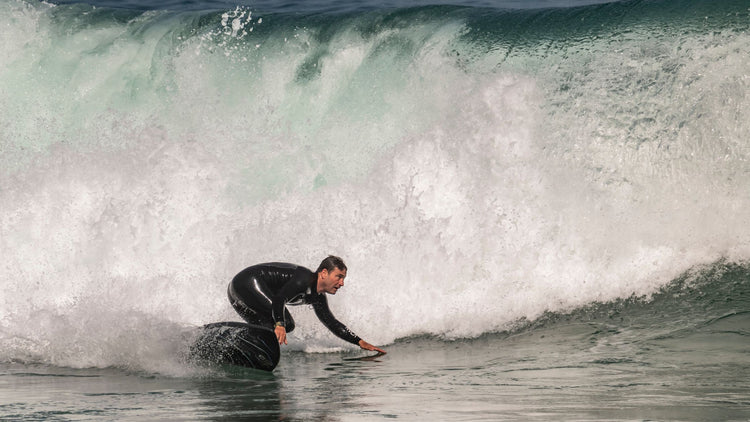 🌊⚡ Chez Zeus, le surf n'est pas qu'un sport, c'est une épopée mythologique ! Dans cet esprit, nous avons tissé nos dix commandements du surf avec un fil directement inspiré de la mythologie grecque.
Préparez-vous à plonger dans un monde où les vagues, les dieux et les surfeur·euse·s se rencontrent. Que la quête commence !
1. Respect des zones : Le décret d'Océanide !
Océan, le titan ancien, connaissait l'importance des frontières. Nos plages modernes ont aussi ces frontières sacrées, destinées à protéger chaque naïade et néréide (c'est vous, les surfeur·euse·s !). Chez Zeus, nos planches sont conçues pour honorer ces territoires. Alors, souvenez-vous, une divinité respecte les limites !
2. En route vers le line-up : L'odyssée d'Ulysse !
Chaque trajet vers le line-up est une odyssée, nécessitant ruse et courage. Nos planches Zeus sont vos fidèles navires, guidant votre périple à travers les mers déchaînées de Poséidon. Évitez les Charybdis des zones d'impact et atteignez le nirvana du surfeur, le line-up !
3. Priorité à l'inside : La sagesse d'Athéna !
La déesse Athéna règne avec sagesse, et dans les vagues, la sagesse dicte que le héros à l'inside a la priorité. C'est un droit sacré, gagné par la bravoure. Respectez cette règle ancestrale, et les dieux du surf vous souriront.
4. Surfeur·euse debout = Priorité : Le triomphe d'Hercule !
Se lever sur votre fidèle monture Zeus, c'est triompher dans les travaux d'Hercule. Cette victoire vous donne la faveur divine dans les vagues. Respectons ces modernes Hercule; ils ont dompté des bêtes de mousse et d'écume !
5. Communication : Le chant des Sirènes !
Les sirènes ne sont pas les seules à posséder un chant envoûtant. En annonçant votre trajectoire, vous chantez votre propre épopée. C'est le chant de la sécurité et de l'harmonie sur l'océan, une mélodie que chaque utilisateur de planche Zeus se doit de connaître.

6. Pas de snaking : Le labyrinthe du Minotaure !
Les couloirs de la vague ne sont pas un lieu pour les tromperies d'un Minotaure. Faire du snaking, c'est s'égarer dans un labyrinthe de discorde. Avec Zeus, vous capturez la vague par le mérite, et non par la ruse !

7. Pas de taxe : Le jugement de Rhadamanthe 
Taxer une vague, c'est risquer le courroux des enfers. Rhadamanthe attend pour juger ces âmes téméraires ! Chez Zeus, nous prônons le respect et la justice sur les vagues, car chaque surfeur·euse mérite sa propre épopée sans être dérobé.

8. Le leash : Le fil d'Ariane 
Un leash n'est pas une entrave, c'est votre fil d'Ariane dans le labyrinthe aqueux. Les planches Zeus sont accompagnées de leur propre fil mythologique, vous liant à votre précieux artefact naviguant sur l'océan. Ne laissez jamais votre destinée s'éloigner de vous !

9. Tenir sa planche : Le bouclier d'Achille !
Votre planche Zeus est votre bouclier, un gardien dans la tempête des mers. En tenant votre planche, vous protégez votre odyssée et celles des autres. Perdre votre bouclier, c'est défier le chaos, alors tenez-le fermement, nobles guerriers des vagues !

10. Éviter les collisions : L'art de la guerre selon Arès !
Arès, le tumultueux dieu de la guerre, savait que la plus grande victoire était celle remportée sans combat. Dans notre arène aquatique, éviter une collision c'est prouver sa maîtrise des arts de la guerre. Manœuvrez votre planche Zeus avec l'honneur d'un vrai champion de l'Olympe.
Alors, déesses et dieux du surf, êtes-vous prêts à rejoindre le panthéon des légendes ? Chez Zeus, chaque planche porte en elle l'écho des mythes anciens, vous invitant à créer vos propres légendes. Prenez la vague, écrivez votre épopée ! 🌊⚡🏄‍♂️
Image with text
Add an image to a long paragraph of text to highlight a product of your choice, a collection, or a blog post. Add details about availability, style, or feature a customer review.
See his contributions on Medium