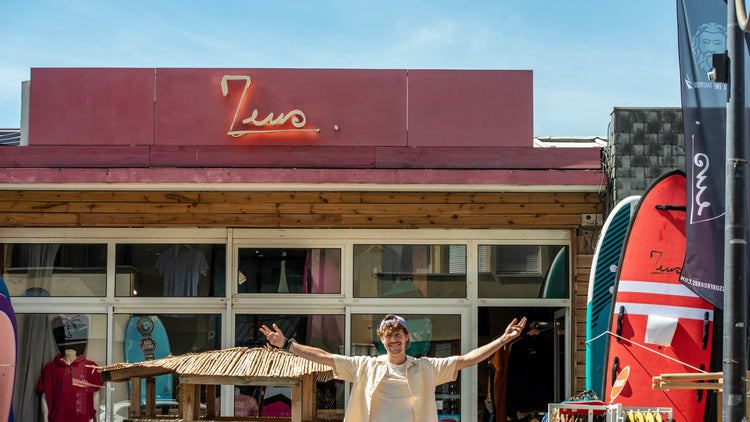 Getting into the surf industry by opening a surfshop
How to open a surf shop in 2024 - the complete step-by-step guide
Reading time 30 min.
About the author: This guide is written by Clément Morandière , a recognized expert in the surfing and board sports industry. He himself worked in surf shops in France, then held key roles in the industry which took him to the four corners of the world.
👉 2024 is the perfect year to open a surf shop , more commonly known as Surf Shop. The board sports market is booming and with the Summer Olympics taking place in Tahiti, demand for surfing equipment is on the rise.
The other good news is the end of the supply problems linked to Covid: surfing will be in full visibility. If you are passionate about surfing and looking to make a living from your passion, opening a surf shop can be an exciting and rewarding adventure. In this article, we will review the different steps necessary to open a successful surf shop in 2024. You can also opt to sell online exclusively, or even launch your own surf brand.
To be successful, it is important to follow certain key steps. In this article, we will review the different steps necessary to open a surf shop.
If you plan to make a living from your passion for surfing, you can also get into surf rental or start a surf school. We have these two guides for you.  
👉 Getting into surf rental in 2024
👉 Open a surf school in 2024
We'll guide you through every step, from conducting in-depth market research, to selecting products to sell, to developing a solid business plan and implementing a strategy effective marketing . We'll also cover important topics like choosing a location , store layout , and ensuring excellent customer service.
Step 1: Do in-depth market research
The most important step to successfully opening a surf shop is to do market research . Before you even begin developing your business plan and looking for a location, it's essential to understand the market and determine how your store can differentiate itself to provide added value to customers.
To carry out effective market research, it is important to take into account the following factors:
Competition : identify local surf shops and study their offering , positioning, customer base and prices. This will help you understand how your store can differentiate itself and provide added value. To do this, you can visit local surf shops, study their online presence, and read customer reviews. This will give you a clear idea of ​​their products, services, and reputation.
Demand: analyze the local market to understand the needs and habits of surfers in the region. This will help you select products to sell and establish an effective marketing strategy. To do this, you can conduct surveys with local surfers to understand their purchasing behavior, their budget, their favorite brands, and the products they are looking for. You can also analyze sales data from similar surf shops in other regions to understand market trends.
Trends: Monitor surfing market trends nationally and internationally. This will help you anticipate market developments and adapt your offer accordingly. To do this, you can follow specialist blogs, social networks, surf magazines and industry events to stay up to date on new trends, innovations, new products, and emerging brands
Step 2: Develop a Solid Business Plan
The second step in opening a successful surf shop is to develop a solid business plan. This step is crucial to ensuring the financial viability of your business in the long term. To do this, you will need to take the time to think carefully about your vision, your objectives and your financial strategy.
Define the store's vision and objectives:
The first step to developing a solid business plan is to define the vision and goals for your surf shop. You will need to think about what you want to accomplish by opening this store, as well as the mission and values ​​you want to promote. It is important to clearly define your target audience and understand their needs and expectations. This will help you develop effective marketing and sales strategies that meet the needs of your market.
During this step, you will also need to consider the types of products you want to sell and how you want to present them. Also consider additional services you could offer, such as surf lessons or events for the local surf community. By thinking about these elements, you will be able to define a clear vision and specific goals for your surf shop.
Establish a realistic budget
Opening a surfshop is a significant investment, and it is essential to establish a realistic budget to cover start-up and operating costs . This includes costs associated with purchasing or renting retail space, store layout, purchasing inventory and advertising . It is important to consider all costs associated with opening and running your surfshop, including fixed costs such as rent and local taxes, as well as variable costs such as salaries and shipping costs. marketing.
By establishing a realistic budget, you will be able to avoid unforeseen financial problems and effectively plan the investments necessary to ensure the viability of your surf shop. You will also be able to evaluate the available sources of financing and choose the best solution for your business.
Plan funding sources
Once you have established a realistic budget, you will need to consider funding sources for your surf shop. This may include using personal funds , obtaining a business loan , crowdfunding, or finding investors. It is important to understand the advantages and disadvantages of each financing option and choose the one that best suits your needs and financial situation.
By taking the time to think about these things, you can put a solid financial strategy in place for your business and maximize your chances of success in the surf industry.
Our professional advice:
Stock rotation is extremely important for a surfshop. If you don't rotate your inventory regularly, you risk having unsold items taking up space and tying up money in your inventory. If a product remains in your store for more than 6 months, this could cause you a problem.
As a result, you may run out of space for new products and you may also lose money by selling items that have been in stock for too long at a discounted price to clear them.
To avoid this, it is important to closely monitor your stock and regularly run promotions to sell off old products. By keeping a well-managed inventory and constantly rotating products, you will be able to maximize sales and minimize financial losses.
A bad turnover ratio is 1. To give you an idea the best stores rotate their stock every 2 months. Adding an online store is a real plus for improving your stock rotation. If your website is well managed, your stock rotation can quickly become a significant asset.
Step 3: Choose a strategic location
The choice of location is crucial to the success of your surfshop . It is important to choose a location that is easily accessible , has a good traffic flow and is close to popular beaches and surf spots .
Our professional advice: often underestimated, choosing your location is a key step for the success of your store. Take the accessibility of your store into account.
In certain cities, the competition will be very strong, if you plan to settle in Brest, Biarritz, Saint-Jean de Luz, Hossegor, the market will be much more competitive.
Step 4: Select products to sell
Select quality brands in line with the store's values, as well as a varied range of products to meet different customer needs.
It is important to do market research to understand the needs and habits of local surfers , as well as to monitor market trends . Keeping these things in mind will help you select products that meet demand and differentiate themselves from your local competitors.
Remember that product selection is a key step in providing a unique and quality experience to your customers . Take the time to think about this step and choose products that fit your vision and marketing strategy.
Our professional advice : Avoid multiplying suppliers , per department take two to three brands maximum. Opt for local brands if possible and with strong commitments. Beware of greenwashing in the surf world and overly technical products. You can look at brands like Oxbow & Rip Curl which are all B Corp certified.
Step 5: Arrange the Store Attractively 🏄‍♂️
The layout of your surf shop plays a vital role in your customers' experience. A well-thought-out layout can not only attract attention, but also create a welcoming ambiance that encourages visitors to stay and explore the shelves. Here are some tips for designing your store attractively:
Create a Welcoming Atmosphere
From the moment customers walk through the door, they should feel welcome. Choose adequate lighting to avoid dark areas and create a warm atmosphere. Use colors and materials that reflect the spirit of surfing and the beach . Things like decorative surfboards , photos of waves, and surf-related artwork can help create an authentic ambiance. This step is important: beyond being a store, your surf shop must above all be a place where you enjoy spending time and experiencing the surf culture.
You can ask a local surf photographer to help you with your store visuals.
Highlight the Products
Organize your products in a clear and organized manner. The most popular items or new releases should be placed in strategic locations to attract attention. Use displays, shelves and hooks to showcase products. Create themed areas, for example for surfboards, wetsuits, accessories, etc.
Create a Neat Staging
Display your products to show how they will be used. For example, place a surfboard on a display with sand. Use models wearing bodysuits to show how they fit. The scenes help customers visualize how the products fit into their lives.
Relaxation and Test Areas
Set up areas where guests can sit and chat, exchange surfing tips, or just relax . Create a corner to try out combinations . The more comfortable customers feel in your store, the more likely they will be to stay and explore your products. A good sofa is a good option.
Also think about the coffee machine! It's a little extra for your customers
Labeling and Signage
Make sure products are clearly labeled with information on features, sizes and prices. Use clear signage to guide customers to different sections of the store. Accurate labeling and effective signage make navigation easier and improve the shopping experience.
By designing your surfshop in an attractive way, you create an environment that not only attracts customers, but also encourages them to discover your products . Investing time in setting up your space can have a positive impact on the overall customer experience and your sales.
Our professional advice: opt for quality displays for your surf shop. If you are looking for a storage system, we recommend the French company Rack ta Board which offers a whole range of displays and racks for professionals. Don't neglect the design of your reception and collection area either, finally remember to provide an area for receiving orders and preparing them.
Step 6: Implement a Marketing Strategy 🚀
A well-developed marketing strategy is the key to making your surf store shine. It will allow you to attract attention, create a link with your target audience and increase the visibility of your brand. Here are some tips for implementing an effective marketing strategy:
Use Social Media to Your Advantage
Social media is a powerful way to promote your store and interact with customers. Create profiles on popular platforms such as Instagram , Facebook and TikTok . Share relevant content, product photos, surf videos and news related to the world of surfing. Engage with your followers by responding to their comments and running contests or surveys.
Organize Events to Attract Customers
Events are a great way to draw attention to your store and connect with the surf community. Organize launch parties for new collections, product demo sessions, surf workshops for beginners, or even friendly competitions. Events create a unique experience for your customers and strengthen your brand image.
Collaborate with Influencers and Ambassadors
Collaborate with local influencers and athletes to promote your store and products. These people have an engaged fan base who will be interested in what you have to offer. Ask them to test your products and promote them on their social networks. You can also consider creating an ambassador program, where passionate surfers represent your brand.
Special Offers and Discounts
Offer special offers and discounts to entice customers to visit your store. You can offer discounts on certain products, buy one get one free deals, or even discounts for members of your loyalty program. Special offers add extra value for your customers and encourage them to come back.
By implementing a solid marketing strategy, you can maximize your store's visibility, attract new customers and retain existing ones. Using social media, organizing events, collaborating with influencers and advertising in surf magazines will help you establish a strong presence in the surfing world and generate lasting sales.
Our pro tip: Take care of your presence on Google Map with Google My Business, regularly update your profile and ask your customers to leave you reviews.
Step 7: Ensure Excellent Customer Service 🛍️
The key to a successful surf shop is customer satisfaction. Excellent customer service creates strong bonds with your customers and keeps them coming back again and again. Here's how you can ensure exceptional customer service:
Train Competent Staff
Your store staff should be knowledgeable and passionate about surfing. Provide in-depth training on your products and the latest trends in the surfing world. Your employees must be able to provide sound, personalized advice to each client, taking into account their needs and skill level.
Implement Loyalty Programs
Loyalty programs reward your good customers and keep them coming back. Offer special discounts, exclusive offers or even free products for those who join your loyalty program. This shows your customers how much you value their loyalty and encourages them to continue choosing your store.
Organize Events for Loyal Customers
Loyal customers deserve special attention . Organize special events just for loyal customers, like private shopping parties, surfing workshops or group outings. This strengthens the bonds between your store and your customers, while creating a memorable experience.
Step 8: Ensure Effective Financial Management 💰
Strong financial management is crucial to the sustainability of your surf shop. Tracking KPIs and adjusting your strategies accordingly will help keep your business on track. Here's how you can ensure effective financial management:
Monitor Sales, Costs and Profit Margins
Keep a close eye on your daily, weekly and monthly sales . Analyze trends to understand periods of high and low activity. Make sure you track your costs accurately, including product purchasing costs and overhead. Calculate your profit margins for each product to ensure optimal profitability.
Adjust the Business Plan
Depending on your financial results, it may be necessary to adjust your business plan. Identify areas that are working well and those that need improvement. Adapt your marketing strategies, product assortment and operations accordingly. Stay flexible and ready to pivot when necessary.
A combination of excellent customer service and careful financial management will ensure that your surf store thrives while meeting the needs and expectations of your customers. By providing exceptional service and maintaining precise control over your finances, you will build a solid foundation for the growth and success of your business.
Step 9: Diversify Income Sources for a Surf Shop 🏄‍♂️
When owning a surf shop, it is essential not to put all your eggs in one basket . Diversifying income sources can ensure financial stability and continued growth. Here are some ideas to diversify your sources of income and maximize your opportunities:
Offer a surfboard rental service
Renting boards is an attractive option to attract both beginners and tourists. Offer a range of boards suitable for different skill levels and surfing styles. Make sure you also provide the necessary safety equipment, such as leashes and wetsuits.
Make sure you also have stand up paddle boards for rental and surfskates, it's very practical for days without waves.
Offer a short and long term storage service.
Offering board storage services can be a boon for local surfers who are short on space at home. You can charge a monthly fee for secure storage of boards and equipment. Make sure your facilities are secure and well maintained. Taking the train with a board has become mission impossible and not everyone has the space to store all their equipment at home.
Develop a partnership with Surf Schools
Establish partnerships with local surf schools . You can provide surf equipment for their lessons and students. In return, you can benefit from increased visibility and a steady flow of customers.
Second-Hand Market
Don't neglect the second-hand market. Offer used surfboards in good condition at attractive prices. This may appeal to beginners or surfers looking for a replacement board. Be sure to check the condition of the boards before putting them up for sale.
Events and Workshops
Organize surfing-related events and workshops. This could include training sessions, product demonstrations, or even friendly competitions. These events not only attract surfers, but they also create a sense of community around your store.
Sale of Complementary Products
Offer a range of complementary products such as surf clothing, beach accessories, sun care products and more. This can increase the average customer basket and increase your revenue.
Diversifying revenue streams can make your surf shop more resilient to seasonal and economic fluctuations . By offering a diverse range of services and products, you can attract a wider audience and retain your existing customers. Don't be afraid to explore new ideas and adapt to the changing needs of the surfing community.
Step 10: Don't Neglect Online Sales 🌐
In the digital age, online sales have become an essential part of a successful surf store . It allows you to reach a wider audience and provide a convenient shopping experience to your customers. Here's how you can leverage online sales effectively:
Create a User-Friendly Website ✅
Set up an attractive and user-friendly website for your surf store. Make sure it's easy to navigate and optimized for mobile devices. Display your products clearly with detailed descriptions and high-quality images. Also integrate a secure payment system to provide a seamless online shopping experience.
Offer a Large Assortment Online
Offer a variety of products on your online store , just like in your physical store. From surfboards to accessories to surf clothing, make sure your online assortment is as diverse as possible. This will attract different types of customers and meet their varied needs.
Facilitate in-store pickup
Offer an in-store pickup option for your online customers. This allows customers to order online and collect their products directly from your store. It's a great way to combine the benefits of online shopping with the personalized in-store experience.
Follow the Trends
Stay tuned to market trends and customer feedback online. Adapt your offering accordingly to meet their changing needs. Online reviews can give you valuable information about what works well and what can be improved.
Don't underestimate the potential of online sales for your surf store . By creating an attractive online store, offering a diverse assortment and implementing online marketing strategies, you can expand your reach and increase your sales significantly. Online selling becomes an essential part of growing your business and keeping your customers happy.
Our professional advice: More than 50% of purchasing decisions are made outside points of sale. With an online store your surf hop is open 7/7.
Trends in the World of Surfing in 2024 🏄‍♂️
The surf industry is constantly evolving and 2024 is no exception. New emerging trends, influencing surfers' choices and store offerings. Here's a look at some of the biggest trends in surfing this year:
1. Foam boards for Novices 🌊
Foam boards continue to grow in popularity, especially among beginners. These boards offer exceptional stability, making them an ideal choice for those learning to surf. The foam ensures optimal buoyancy, allowing novices to gain confidence and progress quickly.
2. Highlighting Local Brands 🏄‍♀️
Surfers are giving more and more importance to local and artisanal brands . Locally produced products are valued for their authenticity, quality and contribution to the local economy. Surf shops highlight these brands, providing customers with unique and sustainable options.
You can also offer a range of merchandising products in your surf shop with surfwear under your own brand
3. Epoxy Boards: Durability and Performance 🛹
Epoxy boards are gaining popularity for their combination of durability and performance. They are light, strong and offer great reactivity on the waves. This trend is aimed at surfers of all levels, from intermediate to expert, who are looking for a versatile and reliable board.
4. Longboards make a comeback 🏄‍♂️
Longboards are making a comeback this year. Their ability to catch waves early and glide smoothly makes them an attractive choice for surfers of all ages. Longboards also offer a more casual and stylish surfing experience, in keeping with surf culture.
5. Preference for Boards from 7'0 to 8'0 📏
In the surfboard space, sizes between 7'0 and 8'0 are in high demand. These dimensions provide a balance between maneuverability and stability, making them ideal for a variety of wave conditions. Surfers appreciate the versatility of these boards which are suitable for both beginners and experienced surfers.
Complete packs are growing in popularity, offering surfers a convenient solution to get everything needed in one go. These packs can include a board, a wetsuit, accessories and even surf lessons. They make it easy for beginners to enter the world of surfing while offering attractive options for more experienced surfers.
All in all, the year 2024 brings exciting new trends to the world of surfing. From foam boards to longboards, local brands and epoxy boards, surfers are spoiled for choice to meet their needs and style. Whether you're a beginner or a seasoned surfer, these trends offer exciting opportunities to explore new facets of this iconic sport.
Trending brands on the surf market in France
For boards: Zeus, Nomad, PRISM, Wyve, Surftech, Tahe
For accessories: Northcore, Dakine, FCS
For wetsuits: Sooruz , Billabong , Quicksilver , RipCurl , Patagonia
For surfwear: Oxbow, Vissla, Rucca, Billabong
Management tools for your Surfshop 🏄🏻‍♂️
If I only had to choose one, it would be Shopify , many surf brands already use this solution for both their online store and their physical point of sale.
10 reasons to choose Shopify for managing your Surfshop
Management of online store and physical point of sale
Shopify is an e-commerce platform that allows you to create and manage an online store. It offers a variety of features for managing online sales, including inventory management, payment options, online store customization, and SEO optimization.
In addition to online store management, Shopify also offers a physical point of sale solution to manage in-store sales. This solution allows you to accept credit card payments, manage inventory and track sales in real time. Shopify 's physical POS solution is also integrated with the e-commerce solution, making it easier to manage your business across multiple sales channels.
In summary, Shopify is a comprehensive e-commerce platform that offers features to manage both an online store and a physical point of sale. It is easy to use, affordable and scalable, making it an ideal choice for surfshop owners looking to grow their business.
Conclusion👉🏻
By following all the steps listed above, you will be able to successfully launch your own surf shop . However, it is important to note that every business is unique and your situation may require additional advice and support to be successful. This is where a specialist consultant can be helpful. You can also call on a specialized agency for the development of your online store and your physical point of sale.
Here are some frequently asked questions (FAQs) about starting and running a surf shop:
Q1: How can I differentiate myself from other SURF SHOPs?
A: You can differentiate yourself by offering unique services such as partnerships with surf schools, selling complementary products and organizing surf-related events and workshops.
Q2: How can I attract regular customers to my surf shop?
A: By providing an exceptional customer experience, offering quality products, hosting events and creating a sense of community around your store.
Q3: How can I take advantage of the second-hand market in my surf shop?
A: You can offer used surfboards in good condition at attractive prices to attract beginners and surfers looking for a replacement board.
Q4: How can I take advantage of online sales for my surf store?
A: You can create a user-friendly, mobile-optimized website, offer a large assortment online, offer in-store pickup, and track market trends and customer reviews online.
Q5: What are the trends in the world of surfing in 2024?
A: Trends include the increasing use of foam boards for beginners, the emphasis on local and artisanal brands, the increase in popularity of epoxy boards, the comeback of longboards and the preference for decks from 7'0 to 8'0.
The most common mistakes in starting and running a surf store can include:
Failing to create a user-friendly and attractive website: A website is essential for promoting your online surf store. It is important to design a website that is user-friendly, easy to navigate and optimized for mobile devices. Bad design or user experience can deter potential customers from exploring your online store.
Not offering a diverse online assortment: It is crucial to offer a variety of products on your online store, just like in your physical store. Not offering a wide range of products can limit your online sales potential and fail to attract different types of customers.
Not making in-store pickup easy: Offering an in-store pickup option for online customers is a great way to combine the benefits of online shopping with the personalized in-store experience. Not offering this option can lead to a less seamless online shopping experience and a loss of potential customers.
Not following trends and customer reviews online : It is important to stay tuned to market trends and customer reviews online. Failing to adapt to changing customer needs can result in lost sales and customers.
Not using the appropriate management tools: Using the right management tools is essential to optimize the management of your surf store. Not using tools like Shopify for your online store and physical point of sale can lead to issues with inventory management, payments, and sales tracking.
It's important to avoid these common mistakes and put the right strategies in place to ensure the success of your online surf store.
In this article we are not talking about other board sports such as wingfoil, windsurfing, kitesurfing, bodyboarding, skimboarding, skateboarding, these other board sports are also a good way to expand your customer base. If you plan to sell this equipment, we advise you to offer sound advice and practice these board sports.
Image with text
Add an image to a long paragraph of text to highlight a product of your choice, a collection, or a blog post. Add details about availability, style, or feature a customer review.
See his contributions on Medium