🌊 Gaia 6'2: An eco-friendly surfboard for exceptional performance!
✅ Discover the Gaia 6'2 surfboard, designed with care for the environment and high-level performance. This board embodies our commitment to sustainable and responsible surfing.
🏄‍♂️ With its dimensions of 6'2 x 20 1/2" x 2 3/8" and its volume of 36L, the Gaia 6'2 offers a perfect balance between maneuverability and stability. It is ideal for intermediate to advanced surfers looking for exceptional performance in the waves.
🌊 The boards of the Gaia range have been developed with environmentally friendly materials, integrating nearly 50% organic raw materials or recycled plastic materials. This approach allows us to minimize our impact on nature while providing high quality surfboards.
🔥 The Gaia 6'2 has an innovative shape that promotes maneuverability and responsiveness. It offers a smooth glide and optimal control in the waves, allowing you to explore new sensations and push your limits.
💥 This board is suitable for a wide range of wave conditions, from small soft waves to more hollow and powerful waves. It will allow you to enjoy every surf session with confidence and style.
Features :
Type of board: Softboard Level: intermediate to advanced Type of ideal waves: small to medium, hollow and powerful Type of fins: thruster (3) Model of fins: Futures Sold with fins: YES Dimensions: 6'2 x 20 1/ 2" x 2 3/8" Volume: 36L Environmentally friendly construction with organic and recycled materials
📦 Content of the order:
The

board, the fins, you can add a leash and a cover if needed.
🌊 Opt for the Gaia 6'2 surfboard and experience unforgettable surf sessions while respecting the nature that surrounds us. Be both efficient and responsible with Gaia!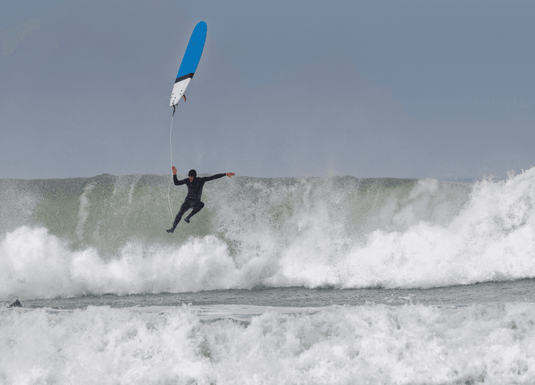 Construction of Zeus boards ⚒️
🌊 At Zeus Surfboards , building our surfboards is a top priority. Each board is crafted with the utmost care and expertise, using the best materials and techniques available, to ensure exceptional performance on the waves. 🏄‍♀️
🔨 Quality Construction: Our Zeus surfboards are crafted with premium materials and meticulous attention to detail. We use high density EPS foam cores, which provide excellent buoyancy and impact resistance. The fiberglass and carbon reinforcements guarantee optimal rigidity and maximum responsiveness in the water. 🎯
🎨 State-of-the-art lamination: Our boards are laminated with top quality epoxy resins, ensuring increased strength and exceptional durability. This state-of-the-art lamination also improves board performance by reducing excessive flex and optimizing downforce energy transmission. 💪
📐 Precise shapes: The talented shapers at Zeus work with passion to create innovative and high-performance shapes. Each board is meticulously designed to provide the perfect combination of speed, maneuverability and stability. Whether you are a beginner, intermediate or confirmed surfer, we have the shape adapted to your level and your surfing style. 🤘
At Zeus Surfboards , we do everything we can to bring you top quality surfboards that will enhance your surfing experience, whatever your level. It's our promise! 🤝
Choosing the right surfboard
🤩 Ready to take the plunge and buy your first surfboard ? At Zeus Surfboards , we know how daunting choosing the perfect board can be, especially when you're just starting out. That's why we offer you the opportunity to make an appointment with one of our surf experts to help you make your decision. 🏄‍♂️
Our surf experts are experienced enthusiasts, ready to share their expertise and know-how with you. They will take the time to understand your level of surfing, your goals and your preferences in order to recommend the ideal board for you. 🎯
During your appointment, you will benefit from a personalized consultation where you can ask all your questions 🤔 and get expert advice. Our experts will help you choose the right size, the right shape and the right technical characteristics according to your level of surfing, local wave conditions 🌊 and your riding style. 👌
At Zeus Surfboards , we're here to make your surfing experience as enjoyable as possible, from the moment you choose your board. So don't hesitate any longer, make an appointment today and let us guide you to the board of your dreams! 🌟
To not miss anything 😎
Tips, guides and news from Zeus ⚡️