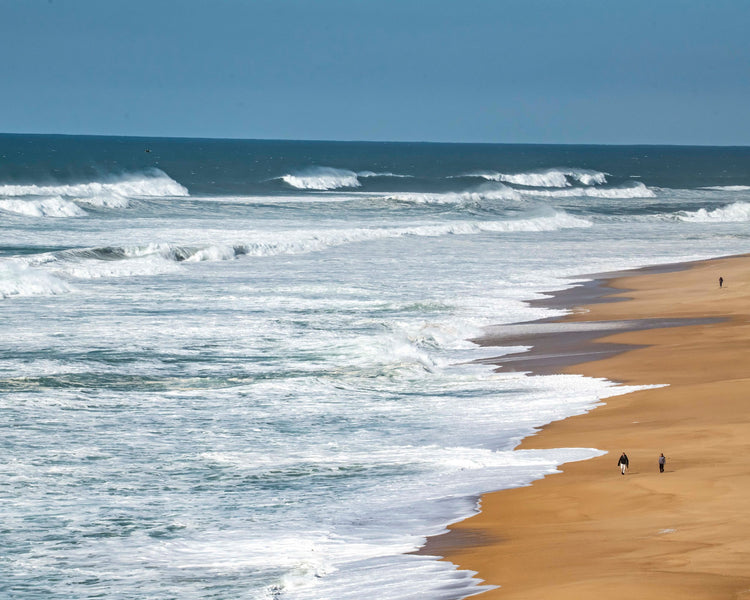 How to Organize a Surf Trip: The Complete Guide 🏄‍♂️
Do you dream of embarking on an incredible adventure in search of the best waves in the world? You are in the right place ! 🌍🌴
If you have already felt the call of surfing , this passion that pushes you to seek the best conditions and the most beautiful beaches, then you are ready for an exceptional adventure: the surf trip . There's nothing like setting out to discover new horizons, in search of the excitement that only the ocean can offer. This 10-step guide will help you plan your next surf trip, from choosing the destination to packing your luggage, without forgetting to think about safety. 🌊
Surfing is more than just a sport, it's a way of life. So, put on your wetsuit, grab your surfboard and follow us on this journey where we will guide you step by step to make your next surf trip unforgettable. 🤙
1. Choose the Perfect Destination for your surftrip 🏝️
Define your goals 🎯
Before you start planning your surf trip , take a moment to think about your goals. What motivates you ? Are you a passionate surfer looking for world-class waves , or a beginner just looking to experience the thrill of surfing? Do you want to go solo or plan a trip with friends? Understanding your motivations is the first step to defining your itinerary and choosing potential destinations 🏄
Destination research 🌍
The world is big, and every corner of the planet offers unique surfing experiences. To find the perfect destination, start by asking questions of local surfers or the online community. You will soon discover that some regions are famous for their exceptional spots , while other destinations are lesser known but offer an equally incredible experience. 🌴
Budget and accommodation 💰
Your budget will play a key role in planning your surftrip and choosing your dream location. Take the time to estimate total costs, including transportation, accommodation, food and activities. Remember, there are options for every budget, from affordable hostels to luxury resorts. Be creative to tailor your budget to your needs. 💼
2. Select the Ideal Period to organize your surf trip 🌞
Surf seasons 🌊
Surfing is closely linked to the seasons. Each region has its highlights, its seasons suitable for surfing where the waves are the best. Find out the ideal time for your trip, taking into account weather conditions and swells. If you want to experience an endless summer , plan accordingly. 🌅
Avoid crowds 🏖️
Surfing in crowds can quickly become frustrating. For more peaceful sessions, plan your surf trip out of season. You will thus avoid the crowds of surfers and be able to enjoy the water in complete tranquility. Local tips can also help you find secret, less frequented spots. 🤫
3. Prepare your Equipment 🏄‍♂️
Equipment Checklist ✅
Equipment is essential for any surfer. Make sure you have a complete list that includes your board , your neoprene wetsuit, your surf accessories (fins, wax and the essential poncho ), and even little extras (like sunscreen to protect your skin from the sun's rays). sun ). Don't leave anything to chance in your board bag. 🏄‍♀️
Rent locally or transport your own equipment? 🚗
The choice between renting and transporting your equipment depends on the length of your stay and your budget. For short trips , renting boards can be convenient, allowing you to travel light. However, if you are planning an extended surf trip , it may be cost effective to carry your own gear. 🚀
4. Plan your Itinerary 🗺️
Length of stay ⏳
The length of your surf trip is a personal decision. This can vary from a few days to several weeks. Consider how much time you want to spend surfing versus the time you'll spend exploring the area. The important thing is to find the balance that works best for you. If you are a beginner and want to take lessons to learn surfing, allow a good week to feel comfortable and enjoy it 🗓️
Non-surfing activities 🌴
A surf trip is much more than a simple quest for the dream spot to surf. Take the time to discover the region outside of the water. Visit sights, taste local cuisine, and take part in vacation activities that will leave you with lasting memories. 🍹
5. Ensure your Safety 🌡️
Surfing skills 🏄‍♀️
Assessing your surfing level is crucial. For beginners, it is advisable to take surf lessons before leaving or during the first days there to acquire essential skills. Even experienced surfers can benefit from a few lessons to perfect their technique. 🎓
Safety Precautions 🚑
Safety is paramount when surfing. Learn the safety rules and make sure you have the proper equipment. Knowledge of tides , currents and local conditions is essential for a safe surfing experience. 🌡️
Don't forget to use sun protection like cream or lycra
.
6. Prepare your Travel Documents 🌐
Passport and visa ✈️
Don't let regulatory issues surprise you. Check the validity of your passport and find out your destination 's visa requirements. Some regions may require visas, so make sure you obtain the necessary documents on time. 📅
Travel insurance 🏥
Travel insurance is a crucial aspect of planning. It will protect you in the event of a medical emergency, theft of equipment or cancellation of your stay. Take the time to find insurance that meets your specific needs to leave with peace of mind. 🌐
Vaccines 💉
In some regions of the world, vaccinations may be recommended before departure. You can find out more on the "Vaccinations when traveling abroad" page on the website of the French Republic.
7. Make your Reservations 📆
Plane tickets ✈️
Finding affordable flights is essential to staying within your budget . Book your tickets in advance to take advantage of the best deals. Use flight search engines like Google Flights to compare prices and choose the flight that best suits your itinerary and desired dates. 🎫
Accommodation and car or van rental 🏨
Booking your accommodation in advance will help you avoid last-minute surprises. If you plan to explore multiple spots , consider renting a car for flexibility . This will also allow you to discover places off the beaten track 🚗.
Traveling in a van during your surf trip offers a unique and authentic moment. Nothing beats the freedom to choose your own route, wake up to the sound of the ocean and enjoy being close to nature. A well-appointed van can become your comfortable refuge between sessions. Imagine driving along the coast, with your board close at hand, ready to stop at any moment to hit the water. This is the opportunity to experience a real adventure, to discover remote spots and to ride where the wind takes you. It's also a great moment to experience with friends or lovers. A van trip adds a special dimension to your trip , allowing you to experience the very essence of surfing: freedom and adventure. 🚐🌊
Go through a site specializing in surfer travel if necessary
To make planning your trip easier, it may be wise to go through an agency or site specializing in surfer trips, such as Lapoint . These travel experts will understand your specific needs, know the best destinations and the best spots. in. By hiring professionals or exploring specialist sites, you can benefit from insider tips, personalized itineraries and even all-inclusive packages that make planning much simpler. Additionally, these services can help you book courses, suitable accommodation and even organize group outings to share your passion with others. Don't hesitate to explore these resources to make your trip as smooth and memorable as possible. 🌐🏄‍♂️
8. Prepare your luggage efficiently 🧳
Prepare a checklist of essentials 🎒
A well-prepared list is the key to a successful trip. Make sure you bring all the items you need, your equipment, clothing suitable for the climate and activities, and space-saving toiletries. Don't forget your beloved board , which will accompany you on all your adventures (if you don't rent on site). 🏖️
Our Tips for saving space and preparing your bag 🧳
If you want to travel light, consider using compression bags (packing cubes) to maximize space in your bag or suitcase. Opt for versatile clothing that can be worn in a variety of situations, allowing you to reduce the size of your luggage. We also advise you to choose clothes that dry quickly and do not crease 🌄 Don't forget your first aid kit in case of a problem 💊
9. Enjoy your Surf Trip 🌴
Arrival at destination 🌅
Once you've landed at your destination , take a moment to familiarize yourself with the area. The first day of surfing will allow you to adapt to local conditions and prepare you for the rest of your trip . So, don't hesitate to take your time and enjoy the present moment. 🌞
Non-surfing exploration 🌴
A surf trip is not just about surfing. Explore the region, learn about the local culture, taste the culinary specialties and take part in holiday activities. Let yourself be immersed in the beauty of the place and create unforgettable memories. 🏝️
Keep a logbook
Keeping a logbook during your trip is a valuable way to preserve your memories and relive every moment of this unique adventure. By writing down your day-to-day impressions, emotions, and observations, you capture the magic of each session, encounters with local surfers, sunsets on the beach, and so much more. The details recorded in your journal will become personal treasures, allowing you to return to those special moments long after you return home. You'll also be able to share your experiences with other surfers and, who knows, maybe inspire other travelers to embark on their own adventure. Your logbook will become a precious travel companion, a silent witness to your exploits and your unforgettable memories. You can even create a blog for the occasion! 📖🌊
10. Reminder about Surfing Ecology 🌍
Environmental responsibility ♻️
Every surfer has a role to play in preserving our oceans. Participate in beach clean-ups, respect local conditions and adopt eco-responsible surfing practices. Together we can help protect the places we love. 🌊
Conclusion 🏄‍♂️
By following this guide and using these tips and advice , you are ready to experience an unforgettable surf trip . Whether you are surrounded by friends or going solo, whether you are lulled by the wind in your hair or by the desire to conquer new waves , remember that surfing is above all an adventure, a passion, a way of life.
Remember to respect our environment 🌍 and preserve the natural beauty of each destination . With careful planning, a dose of adventure and a lot of enthusiasm, your next surf trip will be a breathtaking experience. So, grab your board , follow the guide , and set off on an adventure, because the world is your playground and the waves are waiting for you! 🌊🤙
Image with text
Add an image to a long paragraph of text to highlight a product of your choice, a collection, or a blog post. Add details about availability, style, or feature a customer review.
See his contributions on Medium