Get ready to dive into the world of Zeus , where the waves are always perfect, where adrenaline is our best friend, and where every day is a new adventure! 🏄‍♂️🌊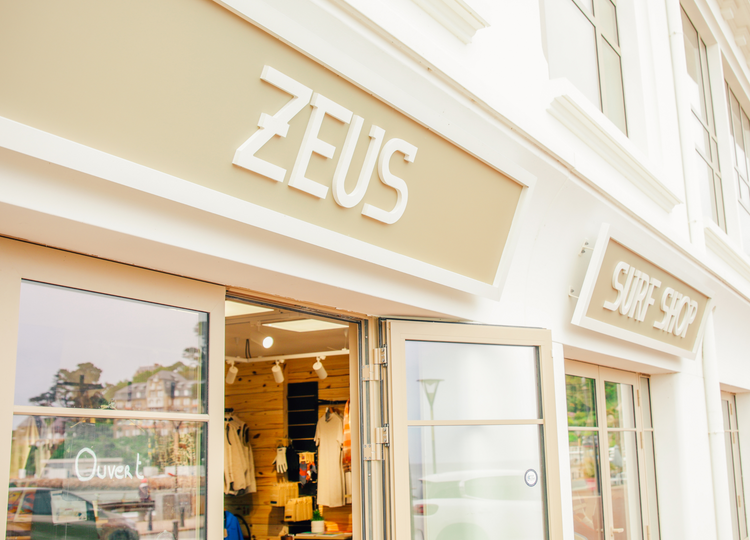 2015
2016
2017
2020
2022
2023
April 2015
"2015, the very first Zeus boards were released in a very limited edition, a series of 10 SUP boards and the brand was born when the creators were just 18 years old."
June 2016
"The very first Zeus shop in the city center of Perros, a place to promote the very first range of Zeus surfboards"
May 2017
"After a few seasons in Brittany and a notoriety that is being built step by step, Zeus is going on an adventure! A used Jumper and off we go for an 18-month tour of Europe to conquer new waves... and partners! »
February 2020
We can't really move. It's time to support the business plan, convince the partners, raise funds and begin our research and development and partial relocation of our production.
May 2022
The Brand New Surfshop: "The brand new Surfshop Zeus opens its doors to you in the brand's historic city, in the Grand Hotel, the city's historic building"
July 2023
Now find Zeus boards in the 4th corner of the globe: from Sri Lanka to Costa Rica, via Norway, Ireland or Portugal, the brand continues to establish itself by always imprinting its values ​​of fun and adventure. »
About Zeus
Discover Zeus 🏄‍♂️, much more than a surf brand: a way of life, a passion and a commitment. Zeus embodies the adventurous spirit 🌎, entrepreneurial audacity 🚀, love of sliding sports 💙 and the constant search for freedom 🕊️. This is an invitation to embrace simplicity 🍃, seek adventure 🌈 and spread positive energy ☀️.
Zeus was born from deep values ​​that shape each of its actions and creations. Sharing 🤝, because there is nothing more rewarding than sharing our passion and being part of a community. Freedom 🦅, because the sea is the last space of true freedom and surfing is the ultimate expression of this freedom. Simplicity 🌱, because it allows you to focus on the essentials and find happiness in the little things. Honesty 💎, because we believe in transparency and integrity in everything we do. And courage 🦁, because every wave is a challenge and every Zeus product is designed to help you do just that.
With the ambition to conquer the European surf market 🇪🇺, Zeus does not just offer high quality products 🏆. She aspires to create a universe that extends beyond surfing, by touching areas such as music 🎵, cinema 🎥, and events 🎪. Zeus is committed to offering a range of products that bring well-being 😌, fun 🎉 and a feeling of "flow" 🌊 to those who use them.
The Zeus brand is distinguished by its concern for quality and accessibility . It specializes in a medium to high-end offer, with particular attention to its flagship product: the foam surfboard 🏄‍♀️. At the same time, it emphasizes accessibility, ensuring that its products are both affordable 💰 and easy to use 🤗.
By choosing Zeus, you are doing more than just buying a surf product. You join a community that shares your values ​​and your passion. You are part of an adventure that goes far beyond the waves. You choose freedom, authenticity and courage. You choose Zeus . 💪🌊🏄‍♂️
In images, in pictures
Zeus
Join the Zeus Adventure
Being part of the Zeus community is more than sharing a passion for surfing, it's embracing a way of life 🏄‍♂️🌊. It's choosing to be part of a collective adventure, driven by the love of board sports and the quest for freedom.
Being a member of the Zeus Community means joining a global family of surfers, thrill seekers and life explorers who share your values ​​and passions.
Zeus A French SME 🇫🇷
Zeus is the embodiment of French innovation and audacity. 🇬🇧⚡ As an SME, we are proud to contribute to the economy of our country and to embody the French tradition of excellence in the field of board sports.
Our local approach and our commitment to maintaining our stock in France in the Landes, allow us to deliver to all of our customers in record time 🌍💚
As a rising brand in the world of surfing, we are determined to push boundaries, constantly innovate and make our unique contribution to the world of surfing . 🏄‍♂️🌊
Zeus is proof that a French SME can stand out on the international scene while remaining true to its roots
Join us on this exciting adventure and experience French surfing with Zeus! 🚀