Zeus Fuego 7' Surf Pack - The ultimate choice for surfing with passion and style!
🏄‍♂️ Get ready for incredible adventures on the waves with the Zeus Fuego 7' Surf Pack! Designed with passion and expertise, this complete pack is a real gem that will allow you to progress quickly in surfing while having fun like never before in each session.

✅ Why is the Zeus Fuego Surf Pack preferred by intermediate and beginner surfers?
It's simple ! Its quality of construction and accessibility make it a popular pack for surf schools in France 🇫🇷. You deserve the best when surfing, and that's exactly what you'll get with the Zeus Fuego Surf Pack.

💥 The Zeus Fuego 7' Surf Pack is available in two vibrant colors that will make you shine on the waves. Whether you opt for the bold "Red" model or the classic and mysterious "Orange", you will attract all eyes during every surf session.

🌊 The Zeus Fuego 7' board offers unrivaled stability and smooth gliding thanks to its dimensions of 7' x 21 5/8" x 2 5/8" and its generous volume of 56L. Get ready to tame the waves with style and ease!

🤩 For intermediate or advanced level surfers, the Fuego is your trusted partner for summer sessions. Its hybrid design and rigid construction offer you a safe and pleasant Malibu, allowing you to explore the waves with confidence and push your limits.

🔥 The Zeus Fuego is much more than just a surfboard. It is the symbol of limitless sliding, dazzling progression and renewed confidence at every moment. With its EVA or IXPE deck covering, you can choose the one that suits your style and preferences, while benefiting from optimal grip and exceptional durability.

The pack includes:

🏄‍♂️ The Zeus Fuego 7 IXPE' surfboard - An evolving surfboard for fluid gliding and rapid progression. With its 2 marine wood stringers, the board offers stability and robustness.

🎒 Surfboard Cover - A quality cover to protect your board from scratches and bumps while traveling.

🌊 Leash - A durable leash to keep your board always by your side in the water and prevent loss.

The Zeus Fuego 7' Surf Pack is ideal in waves up to 1.5m and is designed for a child or adult weighing less than 70kg. For the heavier ones, we recommend its big sisters, the Rosa in 7'6 or the Zeus Temper in 8'0.

Features of the Zeus Fuego 7' surfboard

Board type: Malibu Softboard
Level: Beginner and intermediate
Ideal wave type: small, medium, soft (50cm to 1m, 80cm to 1m20, 1m to 1m50)
Fin type: thruster (3)
Fin model: Soft (IXPE)
Sold with fins: YES
Dimensions: 7' x 21 5/8" x 2 5/8" (Volume: 56L)
Deck covering: IXPE
Tail: Squaretail
With carrying handle

By choosing the Zeus Fuego 7' Surf Pack, you are opting for a complete and unforgettable surfing experience. Take advantage of the quality and performance that Zeus, the French surf brand, puts at your disposal to conquer the waves with passion and style!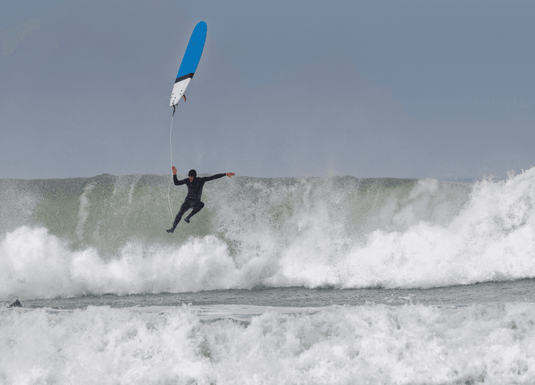 Construction of Zeus boards ⚒️
🌊 At Zeus Surfboards , building our surfboards is a top priority. Each board is crafted with the utmost care and expertise, using the best materials and techniques available, to ensure exceptional performance on the waves. 🏄‍♀️
🔨 Quality Construction: Our Zeus surfboards are crafted with premium materials and meticulous attention to detail. We use high density EPS foam cores, which provide excellent buoyancy and impact resistance. The fiberglass and carbon reinforcements guarantee optimal rigidity and maximum responsiveness in the water. 🎯
🎨 State-of-the-art lamination: Our boards are laminated with top quality epoxy resins, ensuring increased strength and exceptional durability. This state-of-the-art lamination also improves board performance by reducing excessive flex and optimizing downforce energy transmission. 💪
📐 Precise shapes: The talented shapers at Zeus work with passion to create innovative and high-performance shapes. Each board is meticulously designed to provide the perfect combination of speed, maneuverability and stability. Whether you are a beginner, intermediate or confirmed surfer, we have the shape adapted to your level and your surfing style. 🤘
At Zeus Surfboards , we do everything we can to bring you top quality surfboards that will enhance your surfing experience, whatever your level. It's our promise! 🤝
To not miss anything 😎
Tips, guides and news from Zeus ⚡️