Discover the Zeus Temper 🌊 surfboard, a true reference in terms of versatility and performance. Whether you are a beginner or an intermediate surfer, the Zeus Temper is designed to give you an exceptional surfing experience in every session.
🏄‍♂️ Get ready to tame the waves in style and confidence with the Zeus Temper! With its generous dimensions of 8' x 22 9/16" x 2 13/16" and its imposing volume of 72L, this board guarantees you incomparable stability and optimal buoyancy.
✅ Why is the Zeus Temper so popular with surfers of all levels? It's simple ! Its robust construction 🛠️ and its versatile design make it a popular board for surfing enthusiasts. You deserve the best, and that's exactly what you'll get with the Zeus Temper.
🌊 But that's not all! The Zeus Temper has been specially designed to give you the ultimate surfing experience, whatever the conditions. Its versatile shape allows you to easily take the waves and move smoothly, whether on small, gentle waves or more powerful waves.
With its three thruster fins, the Zeus Temper offers excellent grip 👣 and exceptional maneuverability when turning.
💥 But what really sets the Zeus Temper apart is its innovative Crocskin foam coating. Not only does this coating provide optimal grip on the board, it also provides protection against scratches, eliminating the need to apply wax. Enjoy reliable traction and ultimate comfort with this unique coating.
This board is ideal for surfers of all levels 📈, from learning the basics to more advanced surfers looking for performance. Its generous volume and versatile shape make it a versatile choice for all surf conditions.
Technical characteristics :
🏄‍♂️ Type of board: Softboard
🌊 Level: all levels
🌊 Type of ideal waves: small, medium, powerful
🌊 Type of fins: thruster (3)
🌊 Fin model: FCS
🌊 Sold with drifts: YES
🌊 Dimensions: 8' x 22 9/16" x 2 13/16"
🌊 Capacity: 72L
🌊 Deck covering: Crocskin foam or IXPE
📦 Content of the order:
🔥 The Zeus Temper is more than just a surfboard. It is the symbol of an all-consuming passion for the waves, constant progress and a unique style. Push your limits and discover new sensations with this exceptional surfboard.
Order your Zeus Temper board now and get ready for unforgettable adventures on the waves. Don't miss the opportunity to surf with style and confidence! 🏄‍♂️🌊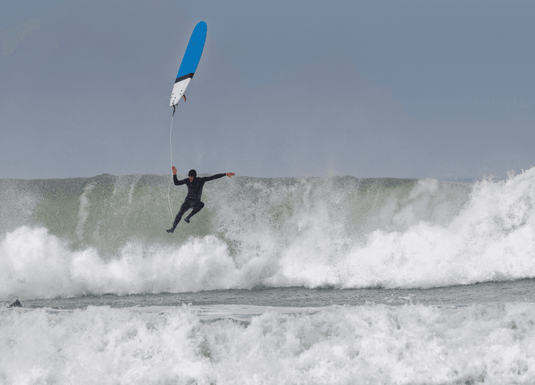 Construction of Zeus boards ⚒️
🌊 At Zeus Surfboards , building our surfboards is a top priority. Each board is crafted with the utmost care and expertise, using the best materials and techniques available, to ensure exceptional performance on the waves. 🏄‍♀️
🔨 Quality Construction: Our Zeus surfboards are crafted with premium materials and meticulous attention to detail. We use high density EPS foam cores, which provide excellent buoyancy and impact resistance. The fiberglass and carbon reinforcements guarantee optimal rigidity and maximum responsiveness in the water. 🎯
🎨 State-of-the-art lamination: Our boards are laminated with top quality epoxy resins, ensuring increased strength and exceptional durability. This state-of-the-art lamination also improves board performance by reducing excessive flex and optimizing downforce energy transmission. 💪
📐 Precise shapes: The talented shapers at Zeus work with passion to create innovative and high-performance shapes. Each board is meticulously designed to provide the perfect combination of speed, maneuverability and stability. Whether you are a beginner, intermediate or confirmed surfer, we have the shape adapted to your level and your surfing style. 🤘
At Zeus Surfboards , we do everything we can to bring you top quality surfboards that will enhance your surfing experience, whatever your level. It's our promise! 🤝
To not miss anything 😎
Tips, guides and news from Zeus ⚡️